After about 8 months of real-world use, we're finally publishing a review of our favorite and most hated lens: the Mitakon 50mm f0.95.
It's a manual focus, full-frame lens that ONLY fits Sony full-frame bodies. You could technically put it on a Sony APS-C body like an a6000, but then it becomes more of a portrait lens (75mm f/1.4 equivalent), and it loses much of its great qualities. Plus, at $900, it costs more than a used Sony a7, so you might as well upgrade the body first.
It can do this: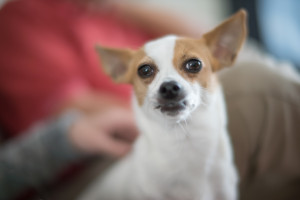 Check out that crazy background blur and vignetting! It looks like someone overdid it with Instagram filters, but it's real, genuine, and fun.
But first, this lens has a HUGE flaw, and it's the same flaw that many of the world's most loved lenses have, including the world's sharpest lens, the Zeiss Otus 85mm: It's manual focus with a shallow depth-of-field.
The Problem with Manual Focus
Right now, dozens of photography snobs are scrolling down to the comments section to tell me what a dolt I am for not being able to manually focus.
"OH BECAUSE NOBODY EVER TOOK A GOOD PICTURE BEFORE AUTOFOCUS. I JUST LOST ALL MY RESPECT FOR YOU."
"I ONLY MANUAL FOCUS IN MANUAL MODE WITH MANUAL ISO ON A WOODEN TRIPOD AND I ONLY RIDE A RECUMBENT BICYCLE AND I HAND DELIVER ALL MY BITS TO THE INTERNET."
"EVERY PRO WORTH THEIR VELVIA USES MANUAL FOCUS!!!!!!!! YOU'RE LIKE THE KEN ROCKWELL OF YOUTUBE, IDIOT. UNSUBSCRIBED."
Here's the thing about manual focus: it sucks. It's just not very good. If you don't believe me, look at the history of cameras, and how quickly autofocus became a key feature of all cameras, including professional cameras, even in the 70s and 80s. Autofocus helps you get the shot.
"IT'S CALLED FOCUS PEAKING YOU DSLR SNOB. LEARN TO USE A SONY AND RTFM!!!!!"
Yes, focus peaking exists on mirrorless cameras, and it helps… but it's not very precise. Focus peaking highlights contrasty areas of the picture, and it highlights a range that much deeper than the actual depth-of-field. If you rely entirely on focus peaking with this lens, you'll often be an inch or so off, and your picture will look wrong.
"JUST ASSIGN MAGNIFY TO A FUNCTION BUTTON IT WORKS GREAT I SOLD MY D750 FOR THIS BECAUSE I MANUAL FOCUS SOOOOO MUCH FASTER THAN ANY DSLR AUTOFOCUSES I OWN A D4S AND NEVER USE IT MY FINGERS ARE FASTER ANYWAY"
Yes, that's what you have to do–you have to magnify the viewfinder 1:1 to find the focus, then un-magnify to frame the picture, then snap the shot. It works, but it's not that fast; it takes quite a few seconds of fine-tuning (at least) to really nail focus on an eye when you're taking a portrait, and with living subjects, people are moving very slightly every few seconds, so by the time you get them in focus, they can be out of focus again. Even your own body movements that you're not aware of can be enough to move the picture out-of-focus when your depth of field is razor thin.
In a nutshell, you'll get a lot of pictures like this, that are almost in focus, but not quite: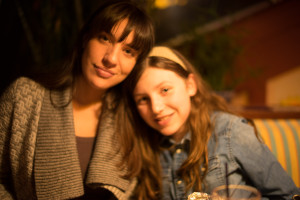 And you'll get pictures that are in focus, but that don't have enough depth-of-field, so they're still annoying to look at: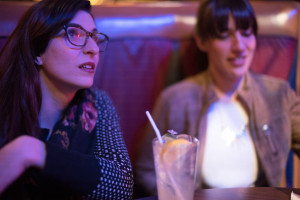 Living with Manual Focus
So, autofocus is faster and more accurate than manual focus, and when using shallow depth-of-field with living subjects, it's rather a necessity. So, why and how are we actually using a 50mm f/0.95 lens?
We often use it for video, and many of our shots are planned, so Justin can take his time and manually focus the lens before we start recording. As the on-camera talent, Chelsea & I understand that we can't allow our bodies to sway forward or back (a natural thing humans like us do), or we'll become blurry. So it works for us, but it's not going to work for you filming your kid's soccer game or your mom's retirement party.
For stills, I'll do the best I can to manually focus, and then use the continuous shutter to take 10-20 pictures, gently moving my body forward and back. With luck, one of the shots will nail the focus, and with great luck, that shot will be the one where my model's eyes are open and expression is pleasant.
Should you Get this Lens?
No, probably not.
First, most of you don't have a Sony a7, and you can't put this on a DSLR, not even with an adapter.
Second, most of you care about the technical perfection of a lens, and this lens isn't technically perfect.
Third, it's $900, and there are probably better ways to spend $900 that will improve your photography.
However, if missing focus on 80% of your shots sounds like fun, and you don't mind annoying the people your taking a picture of by telling them to hold still for just a few more seconds, then this is the lens for you. It's creative, it's real, it creates a mood, and most importantly, it's fun. And photography is supposed to be fun.
Well, if you decide to buy it, please use my links, because I'll get a few pennies for every dollar: Amazon and B&H.