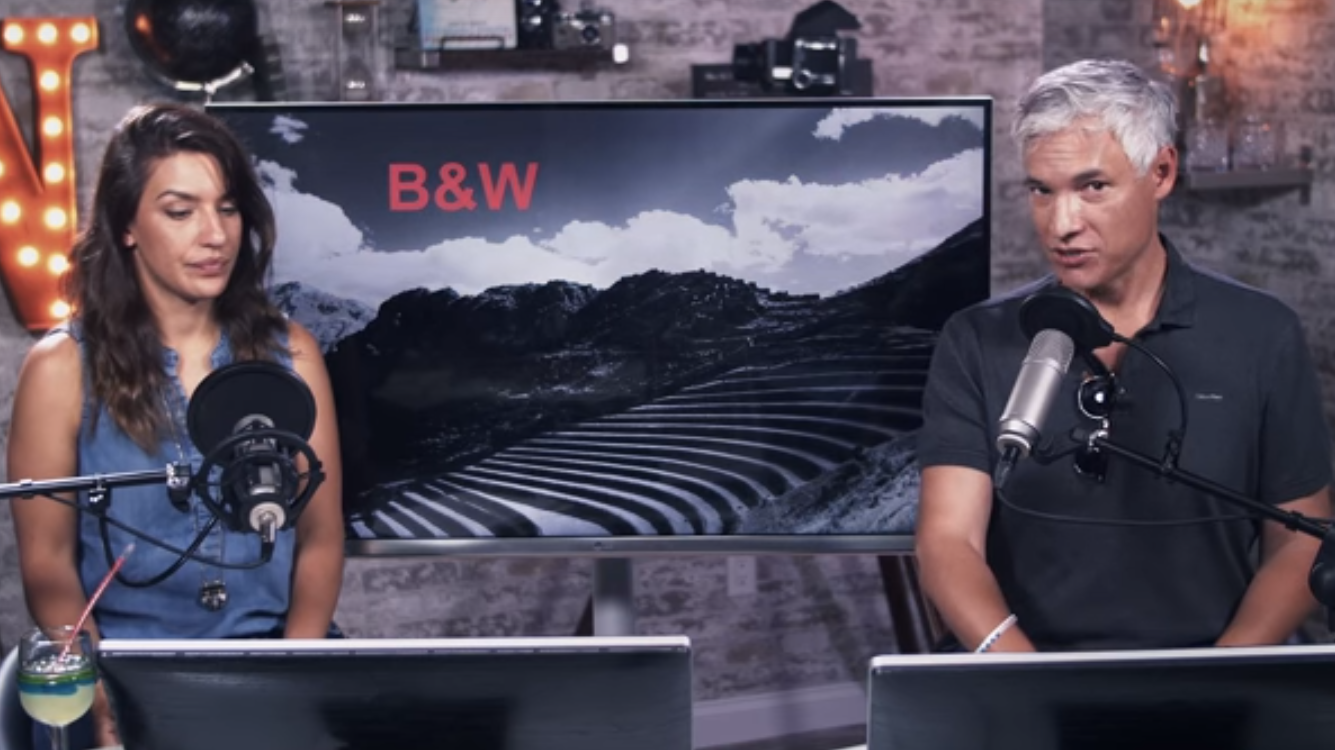 Hey guys! We looked at your black and white photos this week and you came out in force. Lots of great shots.
We just got the LoupeDeck for Lightroom, but we haven't tried it yet, I'm sure we'll get a review out soon. Canon released some new cameras, but we don't have them yet. They don't like us.
Get our t-shirt! sdp.io/shirt.
Support us at Patreon to vote for the live show topic each week, plus get videos early.
"I like to just be silent so it seems like a really long time."
Okay, we start reviewing photos here:
-a pick right off the bat for this cute baby
–Krystal, always killin' it
–texture (nice one, James!)
-tiny boat, big sky
–bird
–tracks (good one, Rod!)
–ship
-dramatic peanut, or the ship from Arrival?
-god rays
-time to wait
Time for my "comments or feelings":
-FOLLOW THE RULES ughhh why do you all hate me
-I was drinking a Yard Brawler which explains my mood
-tips to grade black and white (including video)? Crush the blacks, blown out whites, high contrast: sdp.io/toptip. Adjust by color so that you can make different parts pop.
-is the split between mirrorless and "proper" cameras generational? Not really, it's either sticking with what you know or trying something new. Generationally, younger people are using smartphones for photography. Watch "Death of the Consumer Camera."
Back to photos:
-fog plan
-"cute-iful to the max"
Time for chit-chat! The part of the show where we highlight your weird/confusing/mean/dumb comments on our videos:
-WtF Shr has an strange voice
-"we need to see those pale legs more often"
-"you know what I'm pissed about? Everything!"
-Chelsea & Dog Live "Qbert, you m-fer"
-for sure a bit strange
-podcast? sdp.io/picturethis
Back over to me for some questions:
-Affinity Photo for iPad? Yes, we have a review coming out soon.
-advice on digitizing old prints? Just scan them at a high resolution and then go in and do some retouching.
Back to your photos:
-bride on a bike
-"oh, Midsummer. The Swedes, they like to drink."
-a pick for pandering
-long shadow
-bespectacled man
-happy belated birthday, Justin! Not you, Chelsea.
-ghost reflection "I'm too scared of metaphors"
-"it's like some people are wearing glasses, and some people are bespectacled"
-another horn player
-this one didn't get a pick, but deserved it
-Selma boys
-girl being held
-dramatic smoker
 Back to me for some questions/comments:
-please don't send us pics of your junk, I'll send them to your family
We really didn't do any questions when they went over to me, we just kept going through pictures:
-lady in a barrel
-terrifying doll
-two men on a bus
-a beer brand should sponsor us (please!)
-intense face
Over to me for some $:
-I dunno, some stuff about a camera
-Sigma 18-35 for low light with a Sony a6XXX series? Maybe with the a6500 but you'll need to manually focus. Probably better with Canon or Nikon though.
Back to photos:
-lovely portrait
-lonely white dog
Last questions from you, the audience:
-how did Tony decide to go from IT to photography and was it a financial risk? For sure, yes. He was doing both concurrently, but he saw the death of his IT career coming since no one was reading manuals for later Microsoft versions. You have to keep up with trends and change your focus to fit them. Google images then killed the stock photo business, so they shifted to writing photography books and making videos.
-how to reproduce the black and white auto effect in Lightroom? Just do it manually, adjust your contrast, follow our top tip.
A few last photos:
-pick for this dog that looks like my dog
-obscured face
And that's our show! Next week's subject is travel photography. See you then.