Swedish camera maker Hasselblad has announced it's all new H6D premium medium format camera system. The luxury shooter has been designed from the ground up with quality and speed in mind. Not to be outdone in the megapixel war, the H6D has two CMOS sensor equipped medium format backs available in both 50 and 100 megapixel varieties.
To help resolve all of that medium format detail Hasselblad has released new lenses specially built to exploit the dense pixel counts of the sizable sensors. The HC and HCD lenses are said to be fully 100+ megapixel compatible. These updated lenses will sport new orange accents to set them apart from the classic H range which remains compatible with the updated body.
The new Hasselblad H6D isn't just about resolving power. The body is feature rich and speced to impress photographers with pockets deep enough to take one home. Shutter speeds are available  from 1-hour up to 1/2000th of a second. The sensors output 16 bit color definition with the 100 megapixel back capable of 15-stops of dynamic rage.
Connectivity of the H6D was a point of focus with speedy USB 3.0 wired transfer and dual card slots on hand in both CFast and SD flavors. Wi-Fi is also built in to the H6D which is a modern convenience not seen before in Hasselblad's medium format cameras. User input can be handled on a very contrasty rear display which is touch enabled.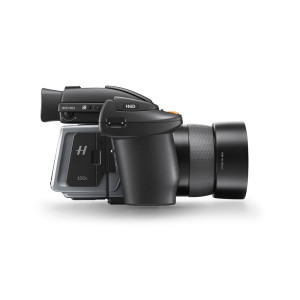 As if capturing insanely detailed and massive still images weren't enough, the H6D is also 4K capable. Af of this writing there is very little that has been said about the way the H6D handles it's 4k capture.
Those of you interested in taking a H6D for a spin can sign-up to request a demo at www.Hasselblad.com
U.S. pricing and availability is yet to be set in stone. That said, if you have to ask about pricing this system is not likely for you.
The Hasselblad site shows a price sheet: The Hasselblad H6D-50c will cost $25,995/€22,900; the H6D-100c is priced at $32,995/€28,900