Most modern digital cameras use one of two different memory card standards:
SD Cards
SD cards are small and inexpensive. They also tend to take longer to write pictures to, though some cards are faster than others.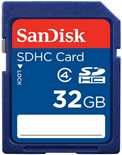 CF Cards
CF cards are larger and more expensive than SD cards. They tend to be faster, allowing you to take more pictures in a short amount of time when using continuous shooting.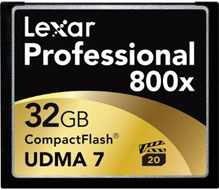 Lower-end cameras tend to use SD cards, whereas higher-end cameras use CF cards. Higher-end cameras often have multiple slots for memory cards. In the Canon world, the mid-range Canon 6D has one SD card slot. The higher-end Canon 5D Mark III has two slots: one SD and one CF. The top-end Canon 1D X also has two memory card slots, both CF. Having two cards slots is useful; you can have twice the capacity, and if one card fails, you have a backup. Having a second slot can also allow you to keep an Eye-Fi card in one of the slots, providing Wi-Fi connectivity for quickly previewing pictures on a computer or mobile device.