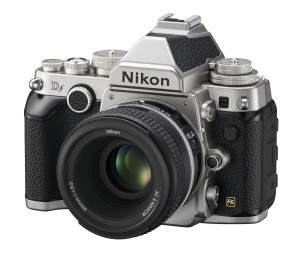 Editor Rating

Rated 3 stars

Good
$1700 to $2750
---
Reviewed by:

Published on:

Last modified:
---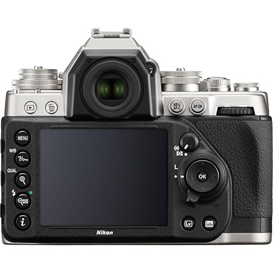 Here's a camera that doesn't fit in with any other DSLR made by Nikon or any other camera manufacturer—the Nikon Df. It's available in either silver or black. I wouldn't normally bother mentioning the finishes a camera body is available in, but the Df is all about style and fashion. While most DSLRs have a "form follows function" design, the Df uses a "form over function" philosophy. It's a beautiful, retro camera modeled closely after the Nikon F3 from 1980; a year that many of us were young camera nerds, wishing we could play with the buttons and dials on our parents' or grandparents' cameras.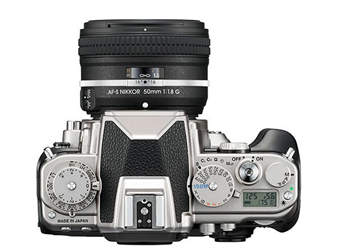 The buttons and dials on the Df are indeed cool. Instead of relying on pressing a button and spinning a dial to select your ISO, exposure compensation, shutter speed, and aperture, the Df provides dedicated dials resembling the mechanical dials of the early 1980's DSLRs. The dials aren't faster or more convenient than those found on other modern DSLRs; quite the opposite. However, they are infinitely cooler to use. Functionally, there's only one other important nod to the past: an inclusion of a metering coupling lever that allows you to connect pre-Ai Nikon lenses made from 1959 to 1977. Basically, Ai lenses with an aperture ring have this little gear (the metering coupling lever) on the body mount that meshes with a matching gear on the body, and tells the camera what aperture you've dialed in. The camera uses this information to help with metering. Unfortunately, the metering coupling lever can cause some lenses designed before Nikon developed Ai to jam. On the Df (but not on any other DSLR), you can move this lever out of the way to connect these older lenses, or move it back in place for compatibility with Ai lenses.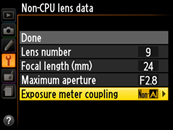 The Df's firmware also provides the ability to configure pre-Ai lenses. Basically, you'll setup your pre-Ai lens in the firmware, flip the metering coupling lever out of the way, and then attach your lens. If you decide you want to use auto exposure, you can meter your scene with the camera, and then transfer the camera's aperture recommendation from the LCD display to the aperture ring on the lens. It's much like using an external meter. All Nikon bodies offer some level of compatibility with older lenses, however, so you don't necessarily need the Df to use an older lens; just those pre-Ai lenses. There's also a PC Sync connection for connecting to older flashes, but that's still a fairly common feature on other modern DSLRs. It also supports a screw-in style remote cable release, which will definitely feel retro when your friend with the 6D is using his iPhone to trigger his camera. Of course, it has a focusing motor built into the body, like most of the higher-end Nikon cameras, so you can use lenses without autofocus motors. A word of caution, however, from a photographer who spends almost as much time using old manual film cameras as modern DSLRs: using old lenses isn't going to be as much fun as you think. Yes, you can buy a used, manual Nikon 50mm f/1.4 Ai with a real aperture ring on it for under $100 (compared to $440 for the new equivalent). Attach it to your Df, and you can have a real, manual experience with plenty of mechanical dials to turn. However, the lack of split-prism or ground glass focusing screen in the Df makes manual focusing much more difficult than it was with the original F3. Further, older lenses simply weren't nearly as sharp as modern lenses, even when they're in perfect condition.
The Df includes most of the modern features you've come to expect: wonderful, low-noise image quality from the D4's 16-megapixel sensor, a 3.2 inch LCD screen, a modern autofocus with 39 autofocus points (9 cross-type, as shown in the following image), ISO 25,600 (expandable to 204,800), and even electronic dials if you decide not to use the mechanical-style dials on top of the camera. Before buying it, however, you should be aware that it lacks several important modern features:
Video. Seriously, it doesn't record video. It's an oddly selective nod towards retro-minimalism for a camera that includes so many other modern features, including live view and cheesy post-processing effects.
Ergonomics. Consumer cameras from the 80s had smaller grips, as does the Df. The smaller grip slightly reduces the weight of the camera, but it also significantly reduces the comfort when using the camera. The dials were optimized for style, rather than usability, and you won't be adjusting those stylish dials without taking your eye from the viewfinder. However, their use is entirely optional, because the Df provides redundant digital controls. The shutter button is on top of the camera, rather than on the grip, where your index finger lands more naturally.
GPS and Wi–Fi. Like most of the Nikon lineup, it lacks these niceties. Like many other modern Nikon bodies, you can connect the WU-1a wireless adapter ($46) or the GP-1/GP-1A ($300).
The Df is the most fun DSLR on the market today. If you're bored of your existing DSLR, it's a great choice. However, if you have $3,000 and want to make stunning images as efficiently as possible, choose a D800 instead.
Pros
Far cooler looking than other Nikon and Canon DSLRs
Sensor produces high-quality images
Compatible with Nikon lenses and flashes
Cons
No video
Control are clumsy
Wants to be retro, but lenses don't have aperture rings, and focusing screen isn't designed for manual focus