Editor Rating

Rated 3.5 stars

Very Good
$1400
---
Reviewed by:

Published on:

Last modified:
---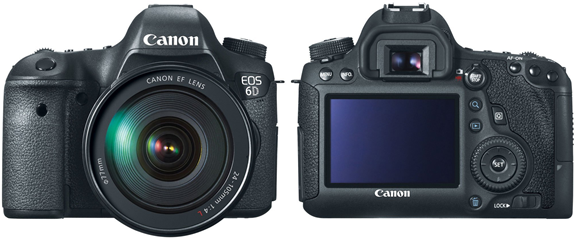 The 6D is Canon's entry-level full-frame camera. It provides vastly better image quality than any of the crop cameras. Here are the reasons you should upgrade to a 6D from the previous cameras:
The full-frame sensor provides 60% better background blur than a crop camera can, improving portraits.
The full-frame sensor provides MUCH better image quality, especially in low-light, making it ideal for landscapes and indoor photography. For this reason, I recommend it for indoor sports, despite having a weaker focusing system than the 7D or 70D.
It has a GPS, which no other Canon camera has. It also has Wi-Fi, which the 70D also has.
Despite the fact that it's 50% more expensive than the 70D, however, the 6D lacks several key features of the 70D:
All of the 70D's focus points are cross-type, making it a better choice for sports and wildlife. With the 6D, you will need to use the center autofocus point for moving subjects, limiting your composition choices.
The 70D does an excellent job of focusing on moving subjects while recording video. The 6D (and all other Canon cameras) do an awful job.
The 70D has an articulating screen, which reduces durability but is helpful for shooting self-portraits or at strange angles.
The 70D has a touch-screen, which the 6D does not.
Also, all lower-end cameras feature a pop-up flash. This is hardly a benefit, however, because pop-up flashes are awful. Additionally, the low-light image quality of the 6D and all Canon full-frame cameras provides better results in situations where you might want a pop-up flash. The 6D replaced the 5D Mark II, and used prices are within 20% of each other. The 6D is a better camera than the 5D Mark II in almost every way, but these are the key benefits. Use them to determine whether it's worth the extra cash to upgrade over a 5D Mark II:
Wi-Fi allows you to browse files from your phone or tablet. This is useful for proofing photos in a studio or for posting a picture to Facebook from your smartphone.
GPS can record your location, which is very useful when traveling.
The live view display works far better than the 5D Mark II's in low-light environments, making it much easier to compose and focus night photos.
The mode dial has a locking button, preventing you from accidentally changing modes—a problem that always has plagued the 5D Mark II.
The center autofocus point works well in much lower light conditions than the 5D Mark II can handle.
Before buying the 6D, consider buying a used Nikon D600 ($1,300) or a new Nikon D610 ($2,000). The Nikon bodies offer about 12% better overall image quality, which is a significant advantage. However, they lack the 6D's built-in GPS and Wi-Fi. https://www.youtube.com/watch?v=3WuwnAuvmTw
Pros
Full-frame image quality & lenses
GPS adds your pictures to a map automatically
Cons
Image quality lags behind Sony & Nikon full-frame cameras
Like most cameras, the Wi-Fi works so poorly you won't want to use it
Focusing is slow enough to make tracking action frustrating