Editor Rating

Rated 4 stars

Excellent
$500 to $750
---
Reviewed by:

Published on:

Last modified:
---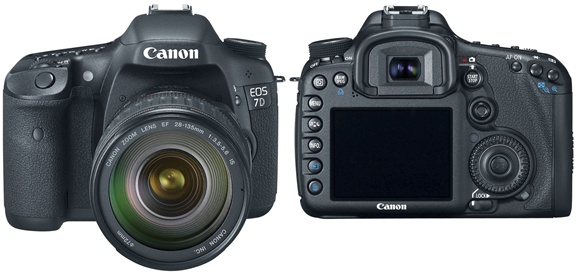 Though technically the 7D is still available new, it has been (mostly) replaced by the much newer 70D. If you want a 7D, you should definitely buy a used body because of the steep discount. Most people interested in spending $1,300 on a new body should buy the 70D instead. A used 7D is an amazing value, however, and they often sell for as low as $550. Its amazing autofocus system has 9 cross-type autofocus points that do an amazing job at tracking moving subjects. In fact, the autofocus system is only exceeded by the much more expensive 5D Mark III and 1D X. Because the 1.6X crop factor brings you closer to distant sports and wildlife, a used 7D is my recommendation for most outdoor sports and wildlife photographers, regardless of their budget. When I'm shooting distant subjects in good light, I choose the 7D even over a 5D Mark III or 1D X. The 7D's 18 megapixels are all crammed into the center of the frame, providing far more detail than any of Canon's full-frame cameras can provide. Though image quality is no better than that of the 60D, compared to the lower-end cameras, the 7D offers these benefits:
Autofocus capable of tracking moving subjects using any focus point.
Higher frames per second, for capturing action.
Improved durability and weather sealing.
The 7D is the right camera for well-lit action. If you plan to do portraiture or landscape, you should choose to either save your cash for lenses and buy a used 60D or make the jump to full-frame image quality with a used 5D Mark II or a new 6D.
Note that the 7D lacks the articulating screen of the lower-end cameras. This improves durability, but I do often miss the articulating screen. The 70D offers most of the capabilities of the 7D with an articulating touchscreen.
If this is your first camera, you should also consider the Canon 70D and the 7D. The 70D has fantastic autofocus capabilities during video, and the 7D can be had used for $500-$750 (and it doesn't have the D7000's focusing issue). All these cameras have excellent autofocus systems, but the D7000 does have more focusing points (though that will probably never impact your photography) and much better image quality (which will impact your photography).
Before buying a 7D, consider a Nikon D7000, which can be had for about the same price used. The D7000 offers about 17% better overall image quality, which is a substantial gain. However, the D7000 isn't as good for action shots, because the buffer fills quickly.
Here are some video that compare the 7D to other, newer cameras: https://www.youtube.com/watch?v=NjR2OztuXtA https://www.youtube.com/watch?v=0Zwd4hR57tQ https://www.youtube.com/watch?v=Jqc5jwR0uuw https://www.youtube.com/watch?v=3WuwnAuvmTw https://www.youtube.com/watch?v=vSipBV4bY0o https://www.youtube.com/watch?v=JpiZHZRDRbc
Pros
Low used price
Great autofocus system
Fast 7 frames per second
Cons
Mediocre image quality
Not as fast as the 7D Mark II
Not as usable as the 70D