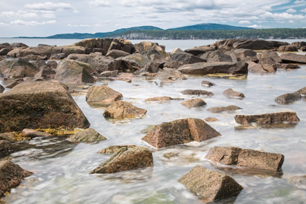 Probably none. While great landscape photography often requires intense planning, distant travel, and long hikes, it doesn't require expensive gear. Any camera and a kit lens will work fine for most landscapes. While almost nobody needs to buy anything more than an inexpensive kit for landscapes, if you're planning to make large prints and you have a camera budget, or you want the best equipment possible, here are my ideal landscape recommendations for different budgets:
$500: A Nikon D3200 kit
$700: A Sony a5100 kit
$1,800: A Sony a7K kit
$2,800: A Nikon D610 ($1,900) and a Sigma 24-105 f/4 ($900)
$4,200: A Nikon D810 ($3,300) and a Sigma 24-105 f/4 ($900)
You'll notice that I'm recommending full-frame cameras for those with the budget; they offer significantly less noise than compact cameras at their base ISO. The Nikon D810's ISO 64 support provides unbeatable detail and noise. Canon cannot currently match the image quality of Sony and Nikon, and that's a key factor for landscape photography. However, if you're already invested in the Canon world, the 6D offers the same image quality as the Canon 5D Mark III, and the 5D Mark III is much more expensive than the 6D, and landscape photographers don't need the 5D Mark III's amazing autofocus system. Plus, the 6D has a built-in GPS, which is useful for keeping track of the locations of your landscape photos. You'll also notice that I recommend the Sigma 24-105 f/4 lens instead of the wider Canon 16-35mm or Nikon 14-24mm zooms. Those are awesome lenses, but very few landscapes allow shooting at wider than 24mm. In fact, many landscapes are more telephoto, because few scenes left in the world allow you to shoot so wide without including distractions. Additionally, at super wide angles, distant objects such as mountains become tiny. For that reason, I bring only a single 24-70 when I'm shooting landscapes. If I have the opportunity to shoot wider, I shoot a panorama, as discussed in Chapter 2 of Stunning Digital Photography. Many landscape photographers, most notably Ansel Adams, used tilt-shift techniques to provide greater depth of field. Using these techniques, they could focus on flowers or rocks in the foreground (shown in the next picture), while keeping distant mountains sharp. Canon offers several tilt-shift lenses (17mm, 24mm, 45mm, and 90mm) and Nikon has a 24mm and an 85mm, each costing between $1,200 and $2,400. They're necessary for film work, but for digital landscapes, I instead recommend using focus stacking techniques. For detailed information about focus stacking, refer to Chapter 12 of Stunning Digital Photography. If you plan on working in low light or at night, you will also need a tripod, as discussed earlier in this chapter.